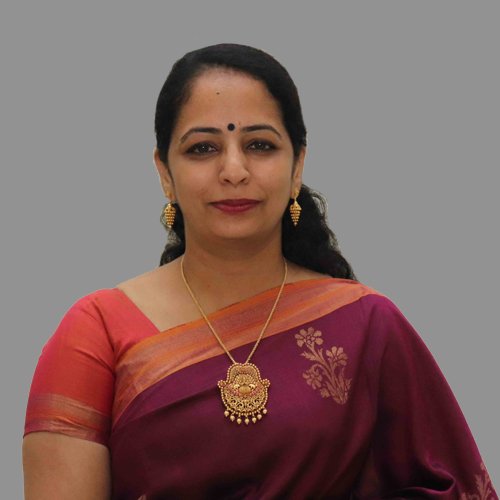 Ms. Swapna Nair
Coordinator
I have come to believe in the quote by John Steinbeck that 'A great teacher is a great artist and that teaching might even be the greatest of the arts since the medium is the human mind and spirit.'
When someone asks why anyone would ever become a teacher, it's worth it to remember that every job has its ups and downs but not every job can change a life.
Being a teacher, being able to guide so many wonderful minds itself is the biggest privilege and then knowing that our words, our actions, our thoughts make a difference to the future of the world makes it all the more special.
Being a teacher at VPMS where every staff member centres their thoughts on shaping the future of tomorrow and giving their best adds sweetness to the work.
To provide an enabling environment in which students will grow to become critical thinkers, acquire a quest for knowledge and a positive attitude towards life and environment.
To create a multicultural environment for learning through an integrated curriculum with strong Language, Science, Math, Fine Art, Social Studies and Physical Education components.
To develop an atmosphere of mutual respect and appreciation.
To develop a sense of responsibility towards each other, community and earth's resources.
To inculcate a sense of love, sensitivity and empathy for fellow beings and the environment.
To equip children with resilience and perseverance to become creative thinkers and learners for life.
I was really ecstatic on viewing my results. It exceeded my expectations, but at the end of the day, it was a very joyous experience. All the hard work finally paid off, and that was the best part of this journey. And even happier was the experience of seeing my parents swell with pride. The fantastic teachers at VPMS and the conducive environment they created, in spite of the pandemic, was perhaps the biggest catalyst in my achievement. This has given me loads of motivation to work even harder in the years to come.- Srishti Dey (Std. VII)
Dr. Vikhe Patil Memorial School and Staff have been very supportive of any small initiative taken by the students and this is what makes us different from other schools. Appreciate your support and guidance as always.
| Sr. No | Name of the Teacher | Subject |
| --- | --- | --- |
| 1 | Ms. Seema Tiwari | English |
| 2 | Ms. Charlotte Samson | English |
| 3 | Ms. Harshalata Girjapure | Marathi |
| 4 | Ms. Farhat Kothwal | Hindi |
| 5 | Mr. Anilprasad Nikam | Hindi |
| 6 | Ms. Remmya Parthasarathy | Science |
| 7 | Ms. Deepa Bijukumar | Science |
| 8 | Ms. Swapna Nair | Maths |
| 9 | Ms. Anushri Deshpande | Maths |
| 10 | Ms. Vinaya Pol | Maths |
| 11 | Ms. Puja Pandey | Maths |
| 12 | Ms. Seema Nair | Social Science |
| 13 | Ms. Snighdha Dey | Social Science |
| 14 | Ms. Sharmila Kumar | Social Science |
| 15 | Ms. Shweta Rao | Social Science |
| 16 | Ms. Siddhi Shinde | French |
| 17 | Mr. Deepak Jadhav | Fine Arts |
| 18 | Ms. Smita Dhandar | Computer |
| Sr. No | Class Teacher | Class |
| --- | --- | --- |
| 1 | Ms. Anushri Deshapande | VI A |
| 2 | Ms. Deepa Bijukumar | VI B |
| 3 | Ms. Farhat Kothwal | VI-C |
| 4 | Ms. Sneha Warang | VII-A |
| 5 |  Mr. Anilprasad Nikam | VII-B |
| 6 | Ms. Seema Tiwari | VIII-A |
| 7 | Ms. Charlotte Samson | VIII-B |
| 8 | Ms. Puja Pandey | VIII-C |
| 9 | Ms. Vinaya Pol | IX-A |
| 10 | Ms. Remmya Parthsarathy | IX-B |
| 11 | Ms. Snighdha Dey | X-A |
| 12 | Ms. Seema Nair | X-B |

Student's Council for the year 2022-23
| Captain | Boy | Girl |
| --- | --- | --- |
| School Captain | Abhinav Kulkarni | Mankirat Kaur |
| Games Captain(Primary) | Leon Dick | Parinaz Dubash |
| Games Captain(Secondary) | Pourushaspa Dubash | Prachee Chatterjee |
House Captains and House Prefects (Primary)
| House | Captain | Vice Captain |
| --- | --- | --- |
| Ruby House | Harshika Khajuria | Arnavpratap Singh |
| Coral House | Aryan Kulkarni | Swara Gadewar |
| Emerald House | Mansha Awale | Harshith Rege |
| Sapphire House | Adityaabhiram Devulapalli | Sameeksha Kothawade |
House Captains and House Prefects (Secondary)
| House | Captain | Vice Captain: |
| --- | --- | --- |
| Ruby House | Apurv Ishwar | Vidhika Neema |
| Coral House | Ananya Dubey | Tanishq Shinde |
| Emerald House | Swara Kulkarni | Suman Yashaswani |
| Sapphire House | Srushti Ustoorikar | Arshia Barman |
STD. VII BOOKLIST 2022-23
STD. VIII BOOKLIST 2022-23
STD VI -Syllabus (2022-23)
STD VII -Syllabus (2022-23)
STD VIII -Syllabus (2022-23)
STD IX -Syllabus (2022-23)
STD X -Syllabus (2022-23)