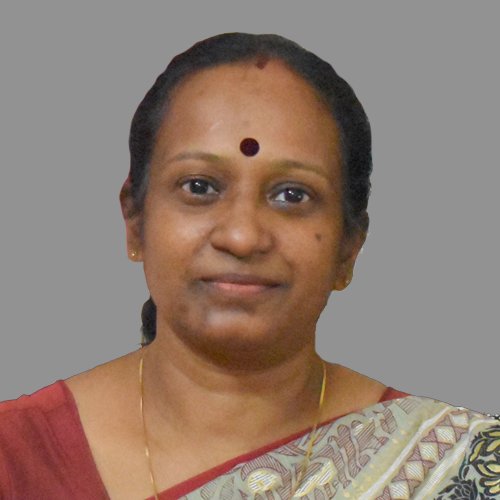 Mrs. Bindu Manoharan
Coordinator
As my teaching career progressed into the third decade, I transitioned from a teacher to a facilitator. This journey has taught me the value of reflection and learning forever. As a facilitator, I believe that we should encourage children to develop skills such as recognizing good from bad, fostering kindness, and promoting hard work; these are critical components of life, and we should strive to enrich their lives with these qualities.
VPMS classrooms have been infused with enthusiasm and a positive atmosphere for teaching and learning. Hence, students have always been eager to attend school. It is indeed a blessing that we have our dear parents who stand shoulder to shoulder with us in OUR pursuit of excellence. I am looking forward to the unwavering support and cooperation in ensuring that the students are ambassadors of "Making life meaningful."
The holistic approach at school strives to nurture each student's physical, emotional, social and intellectual skills by creating ample opportunities to build a foundation for life-long learning.
Dream, Believe, Achieve
The school aims to provide quality learning experiences to empower students to accommodate themselves to live in the changing society.
Collaborate with peers through academic and co-curricular activities to strengthen their life skills.
Grooming students into independent, self-reliant and responsible individuals.
Learn to contribute to society and sustain the environment.
I like going to school every day and try my best never to miss school because I have so much fun there. I really like the way our teachers teach us and make everything so simple and interesting. I have a lot of fun with all my friends especially during the activity periods. I really miss school and I am eagerly waiting for all that fun which we had during our games period, annual day, sports day, field trips and picnics. God please make this Corona go away so that I can go back to my school.
I would like to extend my heartfelt thanks to the entire school faculty for the Online classes, monthly pioneering tests & weekly interactive sessions. The effort that all teachers put in the class to explain and reinforce each concept to the students is commendable. Also, the energy levels and contact with kids is amazing and speaks a lot of the efforts that you all are putting in to ensure kids get a great foundation in these initial years of education.
Krishvee really enjoys all kinds of competition & weekly activities. We are happy to associate ourselves with the school who thinks of the overall development of students beyond the paper pencil education.
Thank you from the bottom of my heart
| SR. NO | NAME OF THE TEACHER | SUBJECT |
| --- | --- | --- |
| 1 | Ms. Bindu Manoharan | English |
| 2 | Ms. Meenakshi Thorat | Marahi/ Hindi |
| 3 | Ms. Sumitra Kawade | Marathi Teacher |
| 4 | Mr. Deepak Jadhav | Art Teacher |
| 5 | Ms. Smita Dhandar | Computer Teacher |
| 6 | Ms. Anjali Dass Abu | Mother Teacher |
| 7 | Ms. Karishma Ghadiyar | Mother Teacher |
| 8 | Ms. Ashwini Irshid | Mother Teacher |
| 9 | Ms. Leena Francis | Mother Teacher |
| 10 | Ms. Manisha Thanage | Mother Teacher |
| 11 | Ms. Gincy John | Mother Teacher |
| 12 | Ms. Swagatika Pal | Science And Social Science |
| 13 | Ms. Lalitha Iyer | Math |
| 14 | Ms. Vanessa Rodrigues | English |
| 15 | Ms. Priyanka Pardeshi | Science And Math |
| 16 | Mr. Nikhil Jadhav | English And Social Science |
| 17 | Ms. Manisha Kadu-Deshmukh | Hindi |
| 18 | Ms. Harshalata Girjapure | Marathi |
| 19 | Ms. Shweta Rao | English And Social Science |
| 20 | Ms. Neerja Danve | English And Social Science |
| SR. NO | NAME OF THE TEACHER | STD |
| --- | --- | --- |
| 1 | Ms. Anjali Dass Abu | I-A |
| 2 | Ms. Ashwini Irshid | I-B |
| 3 | Ms. Karishma Ghadiyar | I-C |
| 4 | Ms. Manisha Thanage | II-A |
| 5 | Ms. Leena Francis | II-B |
| 6 | Ms. Gincy John | II-C |
| 7 | Ms. Swagatika Pal | III-A |
| 8 | Ms. Lalitha Iyer | III-B |
| 9 | Ms. Vanessa Rodrigues | III-C |
| 10 | Ms. Manisha Kadu-Deshmukh | IV-A |
| 11 | Ms. Priyanka Pardeshi | IV-B |
| 12 | Mr. Nikhil Jadhav | IV-C |
| 13 | Ms. Shweta Rao | V-A |
| 14 | Ms. Harshalata Girjapure | V-B |
| 15 | Ms. Neerja Danve | V-C |