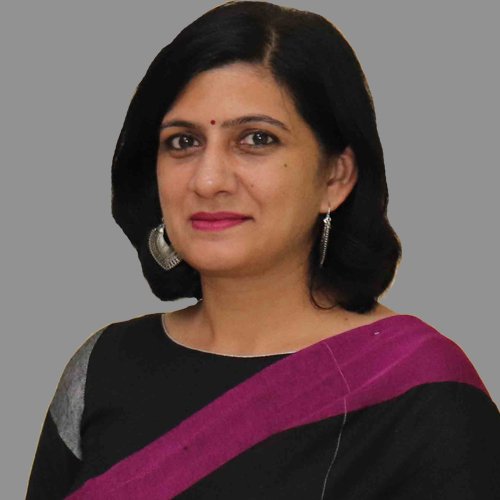 "The whole purpose of education is to turn mirrors into windows"
Teaching is my passion and I firmly believe that to teach is to touch lives forever. Moreover, setting the child right today is setting the world right for tomorrow,". Education does not just comprise of arming our children with degrees but also embraces inculcating in them, ethical and moral values in a world that is progressively ravenous of the same, I am very keen to make a real variance in the lives of students, dedicated to upkeeping their well-being. I take pride in upholding a high standard of teaching and learning and believe in imparting ground-breaking knowledge to keep pace with the forthcoming expansions in education. As a teacher, I have been enthused to impact students' lives and to shape meticulous, poised, and responsible citizens of tomorrow. May God bless and help me with each child entrusted to my care.
Vision
The school believes in in nurturing the young minds through a holistic approach by providing a learning environment which is friendly and strengthens the students during these formative years thus enabling them to develop their capabilities as successful learners.
Mission
To build and foster a sense of community that is inclusive, and respectful of the values, beliefs and practices of all cultures and backgrounds.
To focus on the holistic development of our students by creating a safe, nurturing, challenging, sustainable and esthetically pleasing environment.
To strive to develop and uphold the best practices in providing early childhood care and education. We believe that each child is unique and we work to bring out the best in each child.
To provide opportunities to explore freely under the guidance of our capable staff in a safe environment. To make use of the 'Learning by Doing' approach to help students learn various skills and concepts.ners. It's easy on the eyes and a great go to font for titles, paragraphs & more.
I took admission in Jr.KG during the lockdown. So, I have never been to school, but my teachers made learning fun for me. I also made new friends during the online classes and personal interactions. I enjoy all the online activities and the colour days. I like to take part in the online competitions, especially online dance competitions. I love all my teachers as they are so loving and caring.
We as parents would like to thank all those teachers and IT team members who made the year a smooth drive for new parents like us.
With current uncertainty and dynamic situations, initially, back in June we were worried about online school and the smooth flow with so many disturbances every day. However, moving slowly, we got acquainted with the teachers for Jr.KG who have played a very important role in the early development of our children.
I appreciate all the staff and teachers for their continuous support, guidance, patience, and efforts that they have contributed to conducting the online classes successfully.
Be it personal interactive sessions, activities, class presentations, or completions, we have observed the teachers are always cooperative and easily approachable and kept the spirits high always with kids. They ensured to inculcate good manners, habits and make learning fun, and making these little ones future-ready.
I look forward to more such long-term associations with all the school staff and teachers.
SR. No
SECTION
CLASS TEACHERS
1
Jr. KG A
Ms. Shilpa Chawan
Ms. Gauri Shelar
2
Jr. KG B
Ms. Smita Jadhav
Ms. Sasmita Rath
3
Sr. KG A
Ms. Girija Sharma
Ms. Swati Chatterjee
4
Sr. KG B
Ms. Jyoti Gumma
Ms. Ranjana Yadav
| Sr.NO | TEXTBOOKS | Quantity |
| --- | --- | --- |
| 1. | Pearls: Ratnasagar Semester 1 | 1 |
| 2. | Pearls: Ratnasagar Semester 2 | 1 |
| 3. | Capital Letter Writing (Educart) | 1 |
| 4. | Small Letter Writing (Educart) | 1 |
| 5. | English with Phonics – Preprimer (Tuk publisher) | 1 |
| 6. | Akshar Gyan (Magic book) | 1 |
| 7. | Vikas Drawing book (Part 1) | 1 |
| | NOTEBOOKS | |
| 1. | Red and Blue Line A5 size notebook – 200 pages | 1 |
| 2. | Big Square Box notebook (100 pages) | 1 |
| 3. | Small Square Box notebook (100 pages) | 1 |
| 4. | Yellow Sketch Book | 1 |
| | | |
| | STATIONERY | |
| 1. | Clay box | 1 |
| 2. | Glaze Paper | 1 set |
| 3. | Oil Pastels 25 shades | 1 Set |
| 4. | Drawing Loose Sheets | 30 |
| 5. | Folder | 1 |
| 6. | Pencil box | 1 |
| 7. | Synthetic Cover | 1 |
| 8. | Labels | 1 |
| 9. | Slate 12 inches | 1 |
| 10. | Coloured Chalk box (10 chalks) | 2 |
Sr.NO
Subject
Quantity
1.
Pearls: Ratnasagar Semester 1
1
2.
Pearls: Ratnasagar Semester 2
1
3.
Phonics (Level 2 – Book 1 Bouncy Bears) Edutre Publishers
1
4.
Blooming Buds (Hindi A) Sunbeam Publishers
1
5.
Blooming Buds (Hindi B)
1
6.
Grafalco Pre-School Drawing C
1
NOTEBOOKS
1.
Red and blue with gap size (200 pgs.)
1
2.
Red and blue with gap size (100 pgs.)
1
3.
½ inch square box notebook (200 pgs.)
1
4.
½ inch square box notebook

(100 pgs.)

1
5.
5 Line book (For Hindi)
1
6.
Yellow Sketch book
1
STATIONERY
1.
Clay box
1
2.
Glaze Paper
1 set
3.
Oil Pastels 25 shades
1 Set
4.
Drawing Loose Sheets
30
5.
Folder
1
6.
Pencil box
1
7.
Synthetic Cover
1
8.
Labels
1